Nous vous avons établi un devis pour le voyage que vous voulez effectuer, vous avez décidé d'acheter à notre agence ce produit et ces services, il s'agit ensuite, pour le confort et la sécurité des deux parties, d'indiquer très clairement ce que nous agence de voyages et de tourisme vous fournissons (services, prestations, tarifs, etc.), dans quelles conditions cadres.

Vous avez droit à un contrat de vente clair, base légale sur laquelle une confiance mutuelle peut s'établir. Le contrat de vente inclut : le devis et programme que nous vous avons établis, le formulaire d'inscription et nos conditions générales que nous vous remettons par email.

L'inscription à une expédition TIMTAR signifie l'acceptation de nos conditions générales.

We established you an quotation for the trip which you want, you decided to buy from our agency this product and these services, it is then, for comfort and security of both parts, to point out very apparently what we, travel agency of tourism, provide you (services, benefits, rates, etc.), in which conditions.

You have the right to a clear contract of sale, legal basis on which a mutual trust can settle. The contract of sale includes: the estimate and program that we established for you, the registration form and our general terms which we delay you by email.

The registration to an expedition TIMTAR means the acceptance of our general terms.
L'organisation de votre voyage demande une grande préparation logistique et nous avons besoin de temps pour cela.

Nous avons besoin de votre inscription ferme au plus tard 30 jours avant le premier jour de circuit. Vous pouvez vous inscrire avant, dès que vous êtes prêts. N'oubliez pas que vous avez besoin de temps pour obtenir les visas. Les inscriptions last minute se font au plus tard 15 jours avant le premier jour de circuit (si vous avez déjà votre visa ou n'en avez pas besoin).

Vous nous communiquez votre décision et vos dates de voyage et nous vous envoyons tous les détails et documents nécessaires.

Chaque participante/participant remplit et signe ses documents, les scanne et nous les envoie par mail. Vous pouvez centraliser cette opération à une personne du groupe qui s'occupe de ces formalités
The organisation of your trip asks for a big logistical preparation and we need of time for it.

We need your firm registration at the latest 30 days before the first day of circuit. You can register before, as soon as you are ready. Don't forget that you need time to obtain your visa. For last minute registrations: the latest 15 days before the first day of circuit (if you have your visa or don't need a visa).

You announce us your decision and your dates of trip and we send you all details and necessary documents.

Every participant / participant fills and signs her documents, scannes and sends them to us mail stalemate. You can centralise this operation to a person of the group who takes care of these formalities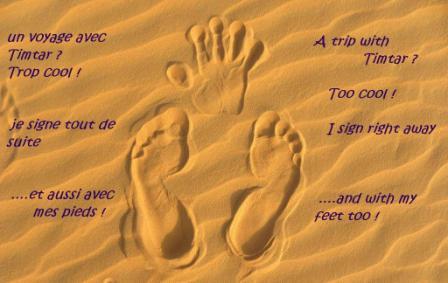 Si les documents ne sont pas remplis et signés individuellement (formulaire d'inscription et conditions générales) ni envoyés dans les délais, si les inscriptions sont faites sur d'autres documents que ceux fournis par Timtar, les inscriptions ne sont pas prises en considération.

If documents neither are not filled and individually signed (registration form and general terms) nor sended in the delays, if registrations are made on other documents than those given by Timtar, inscriptions are not taken into consideration.

Dès réception de vos documents d'inscription nous vous remettons par email l'attestation de prise en charge (nommée aussi "lettre de l'agence de tourisme" ou "lettre d'invitation") dont vous avez besoin pour faire votre demande de visa. Nous y indiquons vos dates d'arrivée et de départ et votre itinéraire.

On receiving your documents of registration we send you by email the certificate of assumption (called also "letter of the agency of tourism" or "letter of invitation") which you need to request your visa. We indicate in this document your dates of arrival and departure and your itinerary.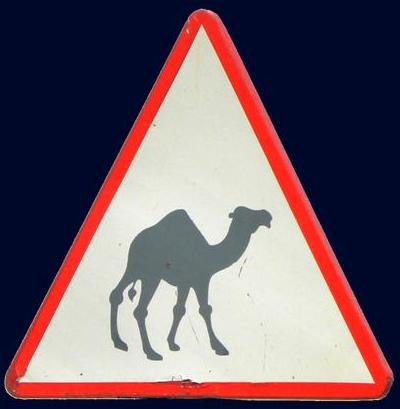 Cette attestation est remise seulement aux personnes dûment inscrites à un voyage Timtar et est établie uniquement pour les dates du voyage se faisant avec un guide de Timtar.
This certificate is only sended to the persons duly registered in a trip Timtar and established only for the dates of the trip made with a guide of Timtar.
Pour répondre aux questions que vous pouvez vous poser et vous aider à vivre pleinement votre voyage, nous vous avons concocté un "Petit Abécédaire du Voyageur saharien Timtar" qui vous permettra de préparer votre voyage et vos bagages en toute sérénité. Vous y trouverez plein d'infos comme par exemple : l'histoire du temps Timtar, assouplissement, bagages, p'tites bêtes et gros zéléfants, comment s'habiller, savoir-vivre saharien, santé, équipement, etc.
Nous vous l'envoyons dès confirmation de votre inscription.
To answer questions that you can have and use to live your trip entirely, we cooked to you up a "Saharan Abécédaire of traveller Timtar" who will allow you to prepare your trip and your luggage in all serenity. You will find full of information there as for example: the history of time Timtar, relaxation, luggage, small stupid and big gelefants, how to get dressed, Saharan politeness, health, equipment, etc.
We send it to you after confirmation of your registration.

Vous vous informez auprès du consulat ou de l'ambassade d'Algérie dans votre pays de résidence sur les modalités et exigences fixées pour l'obtention du visa de tourisme (procédure, documents, délais, etc.).

Vous avez la responsabilité de nous fournir à temps les informations nécessaires pour établir l'attestation de prise en charge

You enquire to the consulate or to the embassy of Algeria in your country of residence about modalities and requirements fixed for the getting of the visa of tourism (procedure, documents, delays, etc.).

You have the responsibility to give us on time necessary informations to establish the certificate.