Le Tassili N'Ajjer vu du ciel est semblable à un énorme paquebot échoué au fond de la mer saharienne. Le Temps a creusé ses points faibles en d'innombrables canyons. Djanet, c'est l'oasis principale, accrochée à flanc de rocher avec à ses pieds l'oued et la palmeraie.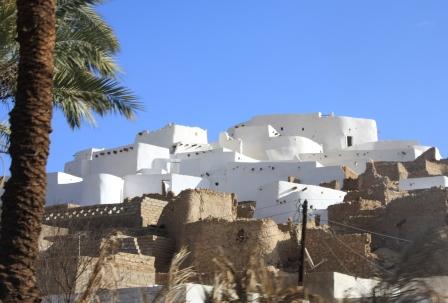 The Tassili N' Ajjer seen of the sky is similar in a huge liner failed in the bottom of the Saharan sea. The Time dug its weak points in countless canyons. Djanet, it is the main oasis, hung on side of rock with with its feet the wadi and the palm grove.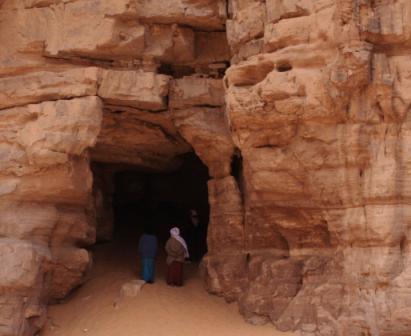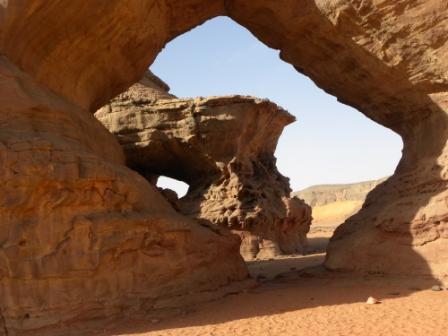 Le Tassili N'Ajjer est un dépôt d'anciens fonds marins, grès déposés aux temps lointains où la région était une mer. Il est percé sur le flan ouest par quelques volcans
The Tassili N' Ajjer is a store of ancient marine funds, sandstones deposited in the distant time when the region was a sea. It is pierced on the west custard by some volcanoes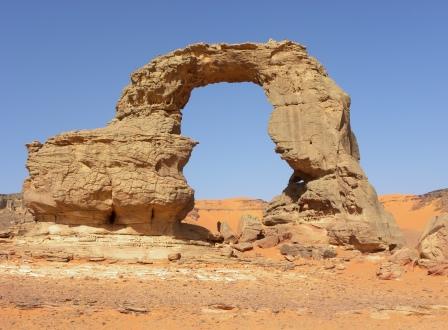 A l'ouest de Djanet, le Tassili N'Ajjer s'offre en petits labyrinthes avec des arches, des grottes, des dunes glissées entre le grès mille-feuilles. Tisras, Timras, Tikobaouine… Au fond de l'oued Essendilene se niche une magnifique guelta. Plus au Nord, dans une longue et profonde faille creusée dans le Tassili, se cache un petit village aux maisons rondes aux murs de pierre et toits chapeau pointu. Des gueltas s'étalent en chapelet ornées de végétation aux verts stimulants. Des balades de découverte d'art rupestre s'organisent dans ces lieux un peu mystérieux.
On the West from Djanet, the Tassili N' Ajjer presents himself in small mazes with arks, caves, dunes slipped between the sandstone millefeuilles. Tisras, Timras, Tikobaouine…
In the bottom of the wadi Essendilene nests a splendid guelta. More in the North, in a long and deep fault dug in Tassili, hides a small village with round houses in stony walls and roofs pointed hat. Gueltas spreads out in rosary adorned with vegetation with punchy green. Walks of discovery of cave art get organised in these a bit mysterious places.
Au pied de la face sud du Tassili N'Ajjer, s'étale l'immensité plane du Tafessasset et les hautes dunes blondes de l'erg Admer qui s'étend sur 300 km.
Au sud-est de Djanet la Tadrart, labyrinthe fantastique truffé de peintures et gravures rupestres magnifiques accessibles qu'on peut admirer sans avoir à faire de marche. Le sable de la Tadrart est orangé et les canyons au cœur de cette région s'élargissent sur des erg aux tons d'abricot. Il faut compter minimum une petite semaine pour découvrir la Tadrart.
At the foot of the south face of the Tassili N' Ajjer, immensity spreads out glide of Tafessasset and high blonde dunes of the erg Admer which stretches over 300 km.
In the southeast of Djanet, the Tadrart, fantastic maze stuffed with rupestral color paintings and accessible splendid rock engravings which it is possible to admire without to walk. The sand of Tadrart is orange and canyons in the middle of this area widen on one erg in the tones of apricot. It is necessary to count minimum one small week to discover Tadrart.
Véritable galerie de chefs-d'œuvre préhistoriques, le Tassili N'Ajjer regorge de peintures, de fresques et de gravures laissées par ceux qui vivaient dans la région aux époques où il y avait un paysage plus verdoyant.
De très belles fresques se trouvent sur le plateau des Ajjer, accessibles par une rude marche dans l'abrupte falaise. Seuls des ânes peuvent y grimper pour porter les bagages et le ravitaillement nécessaires à des randonnées de découverte.
True gallery - of prehistoric art, the Tassili N' Ajjer is packed with rupestral color paintings, of frescoes and rupestral engravings left by those who lived in the area at the time when it was a greener landscape.
Very beautiful frescoes are on the plate of Ajjer, accessible by a hard walk in abrupt cliff. Only donkeys can climb there to carry luggage and supply necessary for walkings of discovery.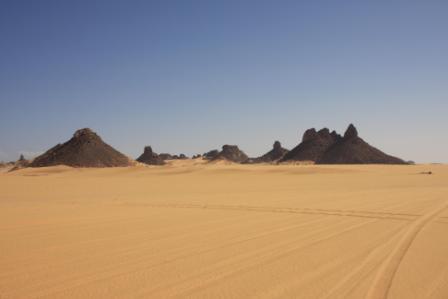 Le Tassili N'Ajjer se découvre soit en 4x4 avec balades libres, soit à pied.
The Tassili N'Ajjer is discovered with 4x4 cars with free rambles, or all by trekking,