C'est un massif volcanique qui offre un décor rude et sauvage, de champs de caillasses de basalte, de phonolithe brunâtres ou anthracites surchauffés par le soleil et éclatés par le froid, percés ça et là de pics et dômes et cônes.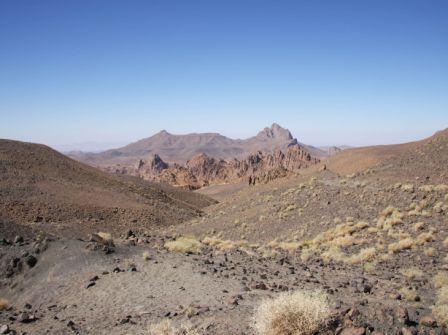 It is a volcanic massif which gives a wild and hard decor, of fields of stones of basalt, of brownish phonolithe or anthracites overheated by the sun and burst by cold, pierced here and there by peaks and domes and cones.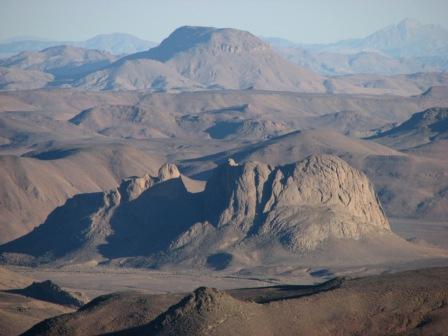 La partie la plus haute située au centre se nomme Atakor. Entre les anciennes coulées de lave serpentent les oueds où pousse une végétation de buissons et de plantes grasses adaptées à ses hautes altitudes, petites taches colorées adoucissant ce paysage impressionnant.
The highest part located in the centre is called Atakor. Between the ancient lava flows the wadis meander where grows a vegetation of bushes and fatty plants adapted to its high altitude, small coloured stains softening this impressive landscape.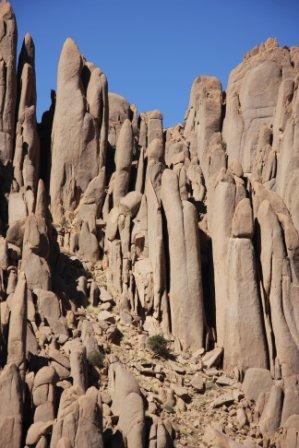 Les contreforts du massif de l'Ahaggar sont plus doux avec leurs collines de rochers boules, les oueds élargissent leur cours, permettant aux taborak, acacias mimosa, tamaris de prendre leurs aises. Un peu partout de nombreux hameaux s'abritent sur les bords d'oued, dans un creux de colline avec des jardins maraîchers. On croise des troupeaux de chèvres et de moutons conduits pas les bergères à la recherche de pâturages.
The foothills of the massif of Ahaggar are softer with their hills of rocks bowls, wadis enlarge their course, allowing taborak, acacias mimosa, tamarisk to take their ease. A bit everywhere many hamlets take shelter on the edges of wadi, in a hollow of hill with garden gardens. Herds of goats and driven sheep not wing chairs in search of pasture are crossed.


A la sortie de la piste Nord se trouve Hirafok ; sur sa droite Ideles. Un peu plus à l'Est il y a Teberbert et plus loin Tazrouk où se cultivent de savoureux fruits (pommes, raisins, figues). Au Sud de Tazrouk, après avoir passé le vertigineux col d'Azrou, le village de Tahifet. En continuant direction Sud, In Dalag et Tarahouaout. En prenant la direction de l'Ouest, il y a Tagmart et plus loin, village caché dans la Taessa, non loin d'Ilamane, Terhenanet.
D'autres villages sont situés au Sud-Ouest et à l'Ouest : Tit, Abalessa, In Amguel.
Dans tous ces villages il y a des jardins où se cultivent céréales, fruits et légumes.
Au Sud du massif, Tamanrasset la grande ville qui il y a 100 ans n'était qu'un centre de cultures où des jardiniers faisait pousser légumes et céréales sur les bords de l'oued.


At the exit of the North track Hirafok is; on his right Ideles. A little more in the East there is Tazrouk and Eberber where are grown of tasty fruits (apples, grapes, figs). In The South of Tazrouk, having crossed dizzy collar of Azrou, the village of Tahifet. By continuing South direction, In Dalag and Tarahouaout. By taking Western direction, there is Tagmart and farther, village hidden in Taessa, not far from Ilamane, Terhenanet.
Other villages are located in the Southwest and on the West: Tit, Abalessa, In Amguel.
In all these villages there are gardens where are grown cereals, fruits and vegetables.
In the South of the massif, Tamanrasset the big city which 100 years ago was only a centre of cultures where gardeners grew vegetables and cereals on the edges of the wadi.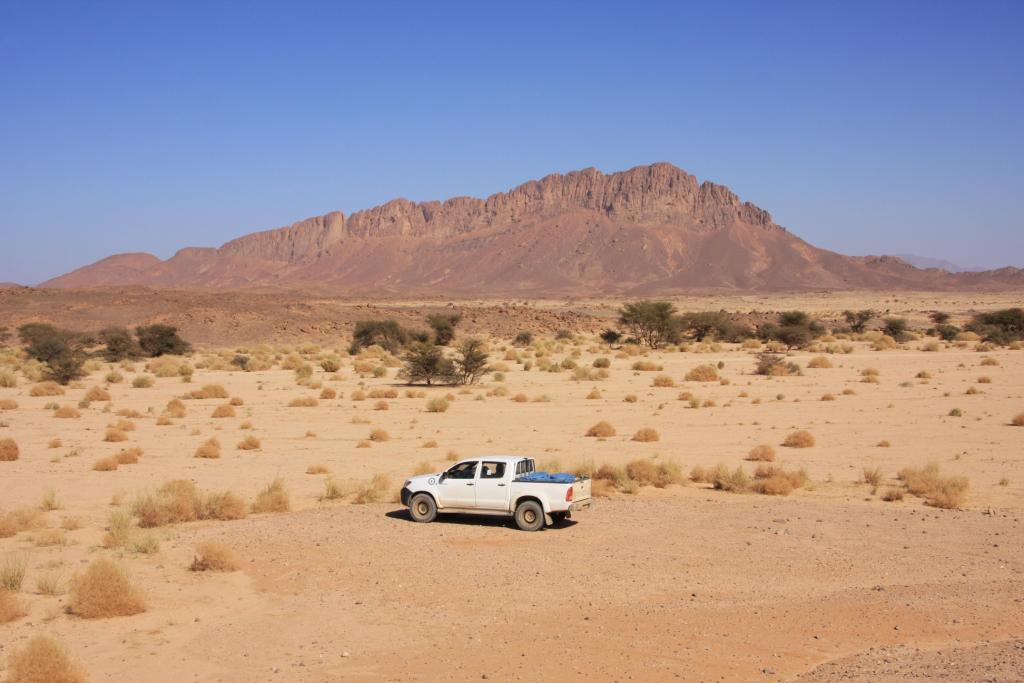 Le massif est accessible à pied par les chemins chameliers ou en 4x4 par quatre mauvaises pistes qui le traversent.
Au centre du massif, la grande attraction touristique, le plateau de l'Assekrem, sur lequel se trouve l'ermitage du père Foucauld. Accessible uniquement à pied, on peut y admirer lever et coucher de soleil sur le massif.
The massif is accessible on foot by ways camel drivers or there 4x4 by four bad tracks which cross it.
In the centre of massif, big tourist attraction, set of Assekrem, on which is the hermitage of the father Foucauld. Accessible only on foot, it is possible to admire rising and sunset on the massif there.